Background Information for HEALTHIER TOGETHER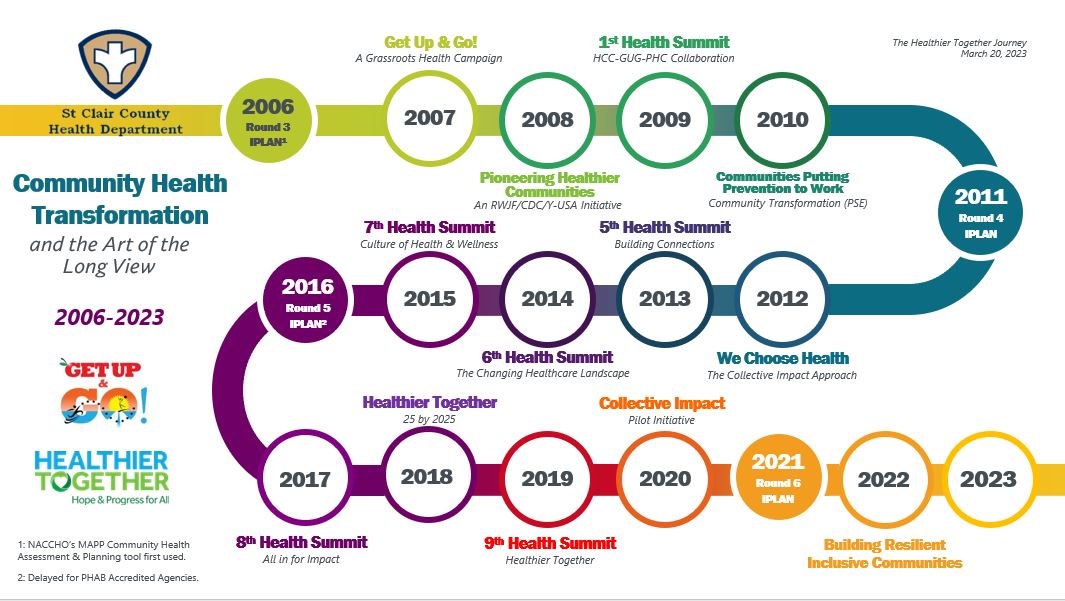 (please click on the image above to view printable PDF)
Since 2001, the member organizations of the St. Clair County Health Care Commission have hosted nine annual partnership events and co-hosted nine Health Summits. The goal of these events has been to raise awareness of the state of health in the counties and commumities of the Metro East St. Louis area, share information with public and private partners, and advance the goals of projects that promote improved population health.
In 2017, key community leaders resolved to adopt an "All in" approach to addressing population health issues, since St. Clair County has consistently ranked low every year in the national County Health Rankings model. This resolution was triggered by those Collective Impact principles presented at the March 2nd Health Summit and the the collaborative work of the Get Up & Go! initiative to address Chronic Disease through active living and healthy eating. Additionally, the member organizations of the Health Care Commission prepared a Community Health Improvement Plan (CHIP) for St. Clair County that could align with and support the CHIPs of many of our metro east hospitals and other Qualified Health Centers. This approach led to the formation of a grassroots movement known as Healthier Together.

The Healthier Together movement is 100% volunteer driven and governed by an independent Council of Partners whose members include leaders in the healthcare, business, faith, education and local government sectors. The movement seeks to support the efforts of work groups comprised of over 85 volunteers representing 64 service organizations, currently dedicated to working together to improve community health and overall quality of life in the following areas:


Chronic Diseases
Community Safety
Education
Maternal & Child Health
Mental Health
Substance Use Disorder

The Healthier Together movement was selected as the theme for the 2019 Health Summit, held on March 28, 2019. The 120+ participants of the Summit were introduced to the elements and practice of Collective Impact and challenged to assist the mission and purpose of the Healthier Together movement to truly engage and make progress to improving our health rankings by addressing our most serious issues together.